Voor een groene en vreedzame toekomst
Geen afbeeldingen? Webversie >>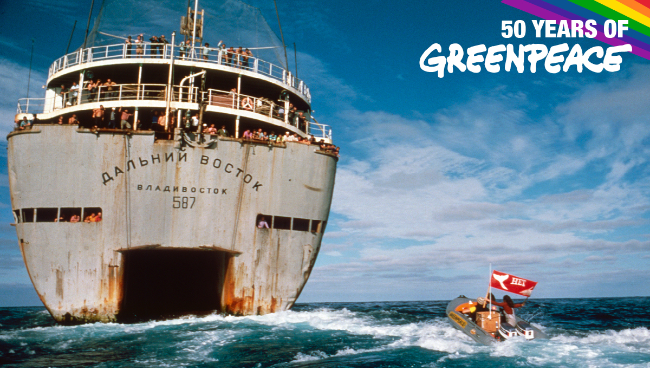 Beste vrienden,
Vijftig jaar zijn verstreken sinds de eerste reis van Greenpeace, maar het einddoel blijft hetzelfde:

een groene en vreedzame toekomst voor iedereen.





Onze verjaardag is niet alleen een moment van feest. Vandaag hebben we meer dan ooit nood aan actie. We moeten samen een eind maken aan de stelselmatige natuurvernietiging en de klimaatcrisis. Hitte, droogte, bosbranden, overstromingen… ook bij ons laat de opwarming van de aarde zich intussen hard voelen. En meestal worden mensen die in armoede leven het zwaarst getroffen.
Wist je dat Greenpeace geen geld aanvaardt van overheden of bedrijven? Mensen als JIJ zijn de motor van onze wereldwijde campagnes. Die onafhankelijkheid geeft ons totale vrijheid van meningsuiting en van handelen.
Misschien is dit wel een goed moment om een maandelijkse gift te doen? We hebben geen 50 jaar meer om het leven op aarde te redden. Dus waarom nog wachten?

Ik doe een maandelijkse gift van 7 €
Ik doe een maandelijkse gift van 10 €
Ik doe een maandelijkse gift van 20 €
Ik doe een maandelijkse gift van mijn keuze
Deze giften zullen ons in de komende jaren helpen in de strijd voor een groenere en rechtvaardige wereld. We zullen klimaatschadelijke projecten voor de rechter dagen en ijveren voor een betere milieubescherming. En we zullen druk zetten op de regering voor een groen en eerlijk herstelplan om ons uit de corona-pandemie te loodsen.
Je kan het werk van Greenpeace elke maand mee financieren. Zo ben je samen met ons deel van de oplossing.
Alvast enorm bedankt voor je steun!

Het Greenpeace-team
P.S: Heb je nog een vraag of ben je op zoek naar meer informatie? Aarzel niet om ons te bellen op 02 274 02 41 of te mailen via contact.be@greenpeace.org
Greenpeace is een internationale en onafhankelijke organisatie die schendingen van het leefmilieu aanklaagt en duurzame oplossingen aanreikt.