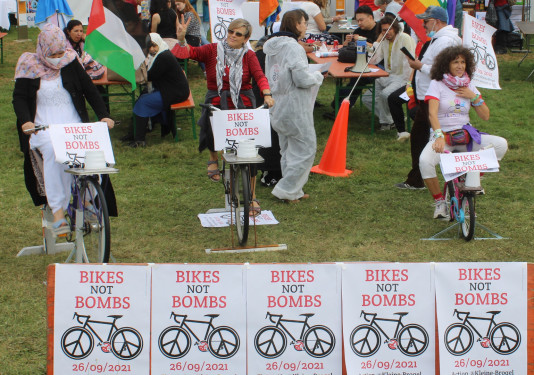 Zondag 26 september : Fiets mee tegen kernwapens 'Bikes Not Bombs'
Beste,

Hopelijk heeft u net als ons genoten van een geslaagde ManiFiesta. We nodigen u graag uit voor een belangrijke actie die we mee organiseren volgende week.

Op 14 juni kwam de NAVO-top samen in Evere. De Westerse militaire alliantie wil inzetten op nog meer militarisering en militaire uitgaven en sleept ons mee in een nieuwe Koude Oorlog met Rusland en China.

Met de toenemende militarisering wordt ook de nucleaire dreiging steeds groter. De inzet van kernwapens is vandaag waarschijnlijker en acceptabeler geworden.

Op Kleine Brogel liggen nog steeds een 20-tal VS kernbommen. In plaats van dat onze regering ze onmiddellijk laat verwijderen, worden ze tussen 2022 en 2024 vernieuwd. Wist je dat zo 1 bom een vernietigingskracht heeft die 10 keer sterker is dan de bom die op Hiroshima viel in 1945? Bovendien bestelde ons land 34 F-35 gevechtsvliegtuigen die in staat zijn de nieuwe bommen te transporteren en in te zetten. Ongehoord!

Onder de banner 'Bikes Not Bombs' fietsen we zondag 26 september naar de militaire basis van Kleine Brogel om te vragen dat België:

- onmiddellijk de kernwapens weg haalt uit Kleine Brogel
- het VN Verbodsverdrag tegen Kernwapens ondertekent
- het contract van de F-35's stopzet

Doe je mee? Inschrijven kan nog tot 21 september via deze link.

Met of zonder fiets, iedereen is welkom. Het programma in een notedop:

9.30 uur station Kiewit: afspraak voor de fietsers (eigen fiets, vouwfiets of u kunt ter plaatse een fiets huren) > we fietsen naar de militaire basis. Het is een rit van 2u30 +-, we houden 2 pauzes. ** Geef je keuze aan op het inschrijfformulier.
12u: station Kiewit - afspraak voor de niet fietsers, samen met de bus naar Kleine Brogel.
13u: Picnic met speeches en muziek en actie aan de militaire basis.
Om 16.00u is het einde voorzien en wordt een bus ter beschikking gesteld voor zowel de fietsers als degenen die met de bus zijn gekomen. Deze bus brengt u terug naar het station in Kiewit.

Tot daar? #nonukes #geengevechtsvliegtuigen

Voor vragen, contacteer veronique.coteur@intal.be